Regular Checkups
Most dental problems start small. Regular checkups enable us to catch problems before they become more serious conditions, and help you minimize the time and money you spend in the dental chair.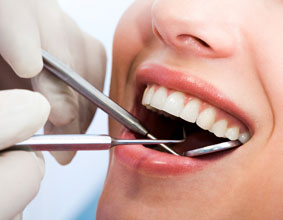 Because of our fundamental commitment to preventive dental care, we recommend a checkup every six months. During your checkup, we will recommend a course of treatment if we spot any tell-tale signs of plaque buildup, gingivitis, cracked or leaking fillings or issues with your bite that may cause further complications and discomfort.
These checkups are also very important for children.  We welcome children to our practice starting around age 3.  We have found that age, or older, to have the most success in completing their appointment.  Of course, if you are ever concerned about something do not hesitate to call for an appointment.
Whitening
Think you could benefit from a brighter smile? Many people are satisfied with the sparkle they get from brushing twice daily with a fluoride-containing toothpaste, cleaning between their teeth once a day and the regular cleanings at your dentist's office. If you decide you would like to go beyond this to make your smile look brighter, you should investigate all of your options.
Bonding
Dental bonding is a procedure in which a tooth-colored resin material (a durable plastic material) is applied and hardened with a special light, which ultimately "bonds" the material to the tooth to restore or improve person's smile.
Veneers
There's no reason to put up with gaps in your teeth or with teeth that are stained, badly shaped or crooked. Today a veneer placed on top of your teeth can correct nature's mistake or the results of an injury and help you have a beautiful smile.
Crowns
Our primary concern, like yours, is helping you keep your teeth healthy and your smile bright. If you want a smile that's your crowning glory, you may need a crown to cover a tooth and restore it to its normal shape and size.
A crown can both make a weakened tooth stronger and improve its appearance. If a crown is recommended, it's probably to correct one of these conditions:
Cover and support a tooth with a large filling when there isn't enough tooth left.
Attach a bridge, protect a weak tooth from breaking or restore one that's already broken.
Cover teeth that are discolored or badly shaped, or cover a dental implant.